Tactics to Make Your Deer Set Up the Spot on the Spot
The pursuit of whitetail deer has hunters nationwide working to create opportunities and increase the odds of a whitetail encounter for the hunt. Whether you love hunting deer for the camaraderie and fellowship, for the challenge that the pursuit of a trophy provides, or to provide meat for your family; one thing remains the same, you need deer in your area to hunt. When it comes to influencing deer, their habits, and the area they live in; there are multiple strategies that can be effective at attracting deer to your hunting area and increasing hunting opportunities. Utilizing deer attractants in your hunting strategy will increase your odds of success, and your enjoyment of the hunt.
The term "deer attractant" is a generic term, and it can encompass a wide variety of tools and methods that are proven to attract deer into a certain area. Some of the means to attracting deer to a specific spot include the use of: food plots, baiting, mineral sites, and deer scents. Hunters can utilize one or many of these methods in combination to attract deer into their hunting area depending on factors like state and local laws, available resources, and terrain. Attracting deer to your spot on the spot, and providing a hunting opportunity is critical to your hunts success. With a little strategic planning, and the right tools put to work, you can increase your number of whitetail encounters and shooting opportunities.
Food Plots
The use of food plots as a deer hunting attractant is as old as deer hunting itself. Natural food plots such as acorn mass and large crop fields continue to be an effective draw for deer. The use of food plot crops planted specifically with deer hunting in mind is becoming more and more common. From larger plots of forage soybeans covering 10 or more acres, to small parcels of broken tree canopy planted to brassica; various crops including corn, milo, turnips, peas, clover, and alfalfa will attract and keep deer.
One of the surest ways to attract deer is through their stomach. Whitetail deer are ruminant animals and require both quality protein and fiber forage to survive. Supplying quality groceries to the deer herd you are hunting is the perfect way to increase the frequency of deer in your area, and the amount of time they spend in your core hunting zone.
Baiting
For the same reason that food plots are so effective, bait as a deer attractant can also be extremely effective. An easy meal provided by a corn pile, a gravity feeder filled with a grain mix, or a prepared liquid deer bait is impossible for deer to resist. The nutritional demands of the breeding season, surviving through harsh winter conditions, and regaining lost nourishment expended during the rut drive deer to seek the most nutrient dense feed supply possible.
Keep it Legal
Using bait to attract deer is extremely effective, and a proven tactic for all seasons; including summer feeding programs, pre rut, peak rut, and post rut recovery. However, laws vary widely from state to state, from public to private, and even by date. Make sure you know and abide by the state and local regulations when it comes to baiting deer, hunting over bait, and when you bait.  You may find your state allows hunting deer directly over a bait pile, a late season tactic that is sure to produce results. On the other hand, some states allow baiting, but restrict the distance to the bait. Still other states allow baiting, but all bait must be removed or consumed 10 days prior to season.
In states that only allow baiting out of sight of the hunter, or a certain distance away from the hunter; bait is a fantastic tool for manipulating deer movement. Bait stations between bedding and feeding areas can draw deer within range of your stand. Utilizing pinch points and travel corridors, and strategically placing stands for prevailing winds, using bait in a state that does not allow hunting over bait can produce amazing opportunities while staying well within the law.
Mineral
Just like all other animals, deer require certain essential minerals to remain healthy and to best utilize the nutrients they digest from feed. Essential minerals like calcium and sodium are natural attractants to deer, and in many states offering these minerals to deer is not classified as baiting. Be careful however when offering mineral as a bait station, some states classify mineral as bait if it is incorporated into the soil from rains. This can be tricky if the state you're hunting doesn't allow hunting over, or near a leached mineral site. There are ways to still offer the minerals deer crave, and remain on the right side of the law.
Whether your state allows hunting over bait, or not; or classifies mineral as bait, or not; make sure and consider using essential minerals as an attractant in accordance with regulations. Mineral sites and offerings are perfectly paired with other types of deer attractants to make your hunting area truly dynamic for whitetails.
Deer Scents
According to research conducted at Mississippi State University, deer can smell somewhere between 500 and 1000 times better than humans. It has been said that whitetail deer see the world through their noses. We have all been there, watching a deer that has no idea we are nearby, then the wind switches. One little gust of scent carrying wind and that deer is off, no questions asked. Harnessing scents that attract deer has been tested for decades, and year after year, hunters fill their tag and swear by a scent product that helped them do it.
By coupling a deer's amazing sense of smell with their biological phases, the wind currents, and a strategically placed stand; deer scents can be used to bring that old wary buck into range. There are numerous deer scent products on the market, but a couple of the most popular include doe in estrus urine, and rutting buck scent. By tricking a buck's nose into thinking there is an estrus doe nearby, or a competing buck in the area, you can play on a deer's most advanced defense to create an opportunity to fill your tag.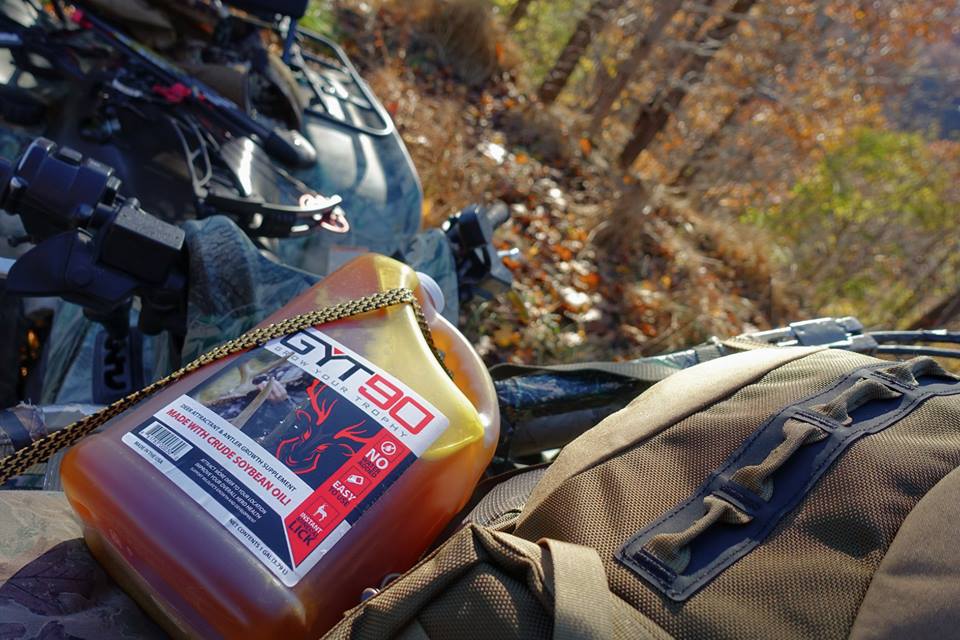 Build an Arsenal and Develop a Strategy
Food plots, baits, mineral, and scents are all effective tools that you can put to work in the deer woods this season. By coupling multiple tools into an effective arsenal you will be able to influence where the deer travel and find an opportunity to fill your tag. Make no mistake, whitetail deer are elusive, wary, and always on their guard; but by working a strategy to make your stand the spot on the spot, it is possible to even the odds.
https://www.gyt90.com/wp-content/uploads/2018/11/8F827664.png
1152
2048
GYT90
https://www.gyt90.com/wp-content/uploads/2018/05/GYT90-Logo-White-Home-300x80.png
GYT90
2018-11-28 13:23:07
2019-02-15 13:23:56
Attracting Deer to Your Hunting Setup