Best Minerals for Deer and Antler Growth
Supplemental minerals have become a staple in deer management. Although most hunters probably use supplemental minerals for several reasons, one of the main reasons is promoting increased herd health, and specifically, to increase antler size. So what minerals are actually used by bucks when growing their antlers? Minerals are categorized as macro- (minerals found in larger quantities in a deer's body) or micro- (minerals found in lesser quantities in a deer's body). Unfortunately, deer research describing which macro and microminerals are most used by bucks during antler growth is lacking, but this article will discuss what research has shown this far in terms of what the best minerals for deer and antler growth are.
Macrominerals
Calcium (Ca) and Phosphorous (P) are two macrominerals that are major components in a deer's skeletal system. For example, 98% of Ca and 80% of P are found within a deer's bones. Although this is an overwhelming majority, there is still enough Ca and P found in antlers to lead Scientists to do research on whether Ca and P are limiting antler growth. Daily requirements of Ca and P can increase four-fold during antler growth, so it would be logical to assume these macrominerals might be limiting in a deer's diet. Generally speaking, Ca requirements for free-ranging deer herds can be met by deer simply consuming natural forage and although P may be deficient in some areas, deer tend to be able to meet their P requirements by consuming natural forage as well. Even if deficiencies do occur, deer will switch their diet to consume bones, shed antlers, or even snail or slug shells to meet their requirements. This means that when available through supplementation, deer will go out of their way to find the mineral they need. If switching their diet doesn't help, then deer will reabsorb Ca and P found within their bones to meet their daily requirements, which is not ideal over offering supplemental minerals.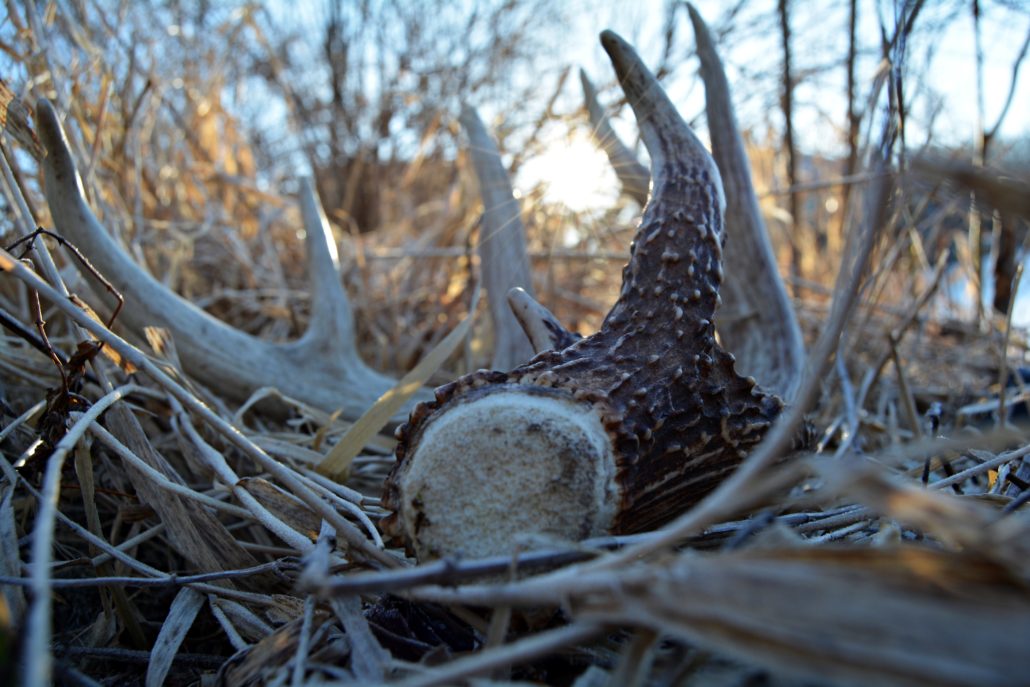 Although Ca and P don't appear to be limiting to deer, the ratio of Ca to P that is consumed by deer can be a problem. Ratios of dietary Ca and P that dramatically deviate from 2 parts Ca to 1 part P (for example, more than 7:1 or less than 1:1) can reduce the absorption of the less abundant mineral within the body. This can lead to an imbalance of either Ca or P within the body, which could lead to negative impacts on antler growth.
One macromineral that is limiting in a deer's diet is sodium (Na). Although Na doesn't directly impact antler growth, it does influence nerve and muscle function and helps regulate a deer's body fluid balance. Deer tend to have increased Na requirements during spring and summer when the water content in plants is greatest. This increased water content makes it difficult for a deer to maintain a balance between Na and water within its body. To compensate, deer will often times seek out left-over salt that was spread on the road during the winter or even increase their consumption of aquatic vegetation which has increased amounts of Na. One of the easiest ways you can help deer consume an adequate amount of Na in their diet is to provide them with mineral licks which both bucks and does will use.
Microminerals
Unlike macrominerals, there are no established requirements of microminerals for white-tailed deer, though there are some that appear to be important. Most estimates of microminerals comes from what we know about requirements needed by livestock, but using those requirements for deer can be dangerous because livestock haven't been bred for efficient mineral use as humans provide them with whatever minerals they need. This may lead to overestimates of microminerals for deer. Regardless, one study conducted on red deer (think of the European version of the North American Elk), showed that copper supplementation helped to increase antler mass for adults. Although other studies have failed to show that relationship between copper and antler mass, they have reported that both copper and zinc can improve a deer's immune system. Offering minerals with trace amounts of these micronutrients will most likely lead to better overall herd health.
Using GYT 90 Supplement to Improve Your Herd Health
While it may not be 100% clear on what the best minerals are for deer and for antler growth, it is generally understood that offering both micro and macronutrients gives deer the opportunity to achieve the level of minerals they instinctively need. There are also other supplements that can help build a healthier herd, not to mention attract deer.
‼️ATTENTION HUNTERS‼️ ATTRACT MORE DEER TO YOUR LOCATION ‼️ GYT 90 harnesses the raw POWER of naturally expelled crude soybean oil! GYT90 creates a sweet and salty treat that deer CANNOT RESIST! To find a local dealer, click here: http://bit.ly/GYT90Dealers

Posted by GYT 90 on Monday, November 13, 2017
Deer go through several stressful periods throughout the year. With obvious periods being the rut and winter for both bucks and does, antler growing season for bucks, and lactation for does. Providing deer with both the minerals and the nutrition they need at these crucial periods can help you reach your management goals. So how can using a supplement like GYT90 help you?
GYT90 offers 90+ minerals, covering all of both the macro and micronutrients known to the research that has been done that might be limiting factors in antler growth. Beyond that, GYT90 offers the minerals with crude soybean oil providing the additional nutritional benefits, calories, and fats to deer during these critical periods of nutritional needs.
GYT90 Uses
You can provide deer these minerals and supplemented nutrition a variety of ways. The first and most beneficial is to pour the GYT90 crude soybean oil and mineral mixture over supplemental feed. This can help attract deer to feed stations during these stressful periods. This can be beneficial for several reasons. First, deer have to learn to like new foods that they haven't been exposed to before. If you live in an area where there is little to no agriculture or in an area that doesn't have apple trees, how are deer supposed to know that they like those foods? It's no different than when people try a new food for the first time or the common problem food plotters experience when offering deer brassicas. Pouring GYT90 over these supplemental feed stations can help draw deer to them faster than usual due to the soybean oil, distinct scent, and salt content. Once deer start to visit these stations, they will also benefit from the essential minerals and nutritional requirements found in GYT90.
How to use GYT 90: Corn

Posted by GYT 90 on Friday, June 1, 2018
Click here for the other ways to use GYT90 mineral.
So What are the Best Minerals for Deer?
Although there isn't much research on how beneficial supplemental minerals can be for bucks during the antler growing season, there is one thing we do know for sure; providing deer with minerals and nutrition doesn't hurt them. By providing supplemental macro and microminerals and extra nutrition throughout the year, you are ensuring that those minerals aren't limiting to your deer herd, and that antler production can be maximized in the bucks on the property.
https://www.gyt90.com/wp-content/uploads/2018/06/best-minerals-for-deer_feature.jpg
2507
3761
GYT90
https://www.gyt90.com/wp-content/uploads/2018/05/GYT90-Logo-White-Home-300x80.png
GYT90
2018-06-20 16:00:44
2018-09-26 13:46:43
What Minerals are Important to Bucks When Growing Antlers?